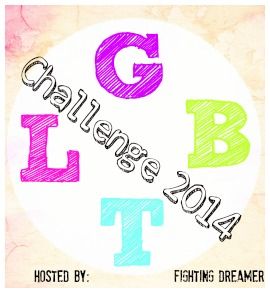 Hey guys, I'm very excited to share that I'm going to be participating in my first reading challenge this year! I decided to participate in the LGBT reading challenge hosted by the lovely Cayce! The goal is basically to read about 3 books (minimum) this year that deal with LGBT issues. I'm going to attempt to read about 5-10 but we shall see! I have a lot of books to read this year and I'm not sure how many books I can read that are specifically oriented towards LGBT issues but we shall see! 
I will probably make my own button (that matches my design) for my sidebar but I will prove the link to this post. I will also add a progress bar to my sidebar as well!
If you are interested in participating as well, click here for the sign up page! 
 Are you participating in the LGBT reading challenge? If not, what challenges are you participating in? Does this seem like an interesting challenge? Let me know!